Every week I bring you the best wedding stories, deals and events in Los Angeles and from around the world. And we call it Wedding Wise Wednesday. Welcome!
Cool Wedding Thing of the Week:
Toxel.com
- This wedding cake based on Vincent Van Gogh's Starry Starry Night. My favorite painting of all time. Sigh. Locally, I know that
Hansens Cakes
and
Fantasy Frostings
can TOTALLY do the funky, offbeat designs.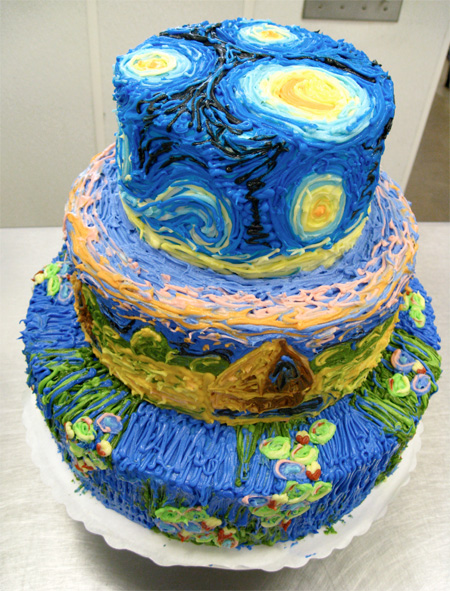 The Events:
Mark Your Calendar
Sunday, May 31
11am - 2:00pm
Anaheim Hilton
777 W. Convention Way
Anaheim, CA 92082
This is one of my favorite wedding things, and I volunteer to help out every time it comes to town. New and pre-owned wedding dresses ranging from $75 - 1800, and proceeds contribute to support programs for cancer patients and their families all across the country. Good show, too. I'll see you there!
The Deals:
Photo by Barbara Bemis
Inspired by Dis
- DIY Disney Cast Member Name Tag Escort Cards - Learn how to make these with a little bit of time for almost nothing.
Speaking of Pretty and Free, Buzzfeed is featuring
31 Free Wedding Printables
. Save the dates! Escort cards! Photo Booth Props! You are WELCOME.
This Week's Reading Assignment:
My article on The Broke-Ass Bride -
Don't Panic! Pre- and Post- Contract Budget Fixes
.
What's bugging you about your wedding? Contact me to schedule a free consultation and we'll figure it out!
See you at the end of the aisle,
Liz Coopersmith
Silver Charm Events
www.silvercharmevents.com
Wedding questions? What Do You Need Right Now?
Text/Call - 323-592-9318
liz@silvercharmevents.com