Every Wednesday I bring you the best stories, events and deals in Los Angeles and from around the web. And we call it Wedding Wise Wednesday. Welcome!
Cool Wedding Thing of the Week: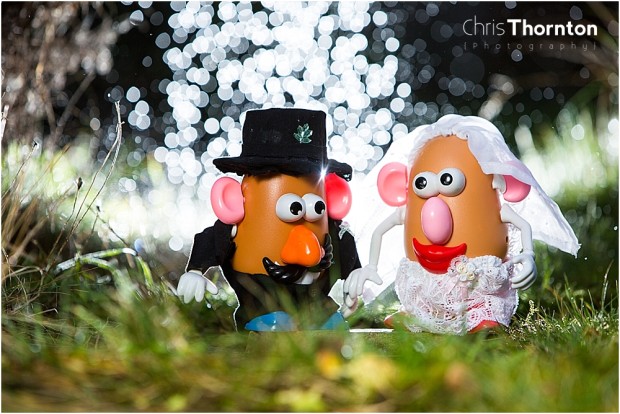 Mr. and Mrs. Potato Head's wedding
- Photographer Chris Thornton wanted to describe his job to his 3-year old. This should about do it, you think? The opening "shoe shot" is my favorite thing, ever.
The Events:
Sunday, March 9
11am - 3pm
The Third Annual Vintage Glamour Bridal Show
Ackerman Grand Ballroom
308 Westwood Plaza
Los Angeles, CA 90024
Admission: Free with pre-registration. Tickets will NOT be sold at the door!
I don't think I've actually been to Ackerman Grand Ballroom since my UCLA graduation ceremony there, 5 million years ago. This is show I'm definitely going to check out this weekend. Call me at 323-592-9318 if you want to join me for a walk-along.
11:00am - 4:00pm
Open House - Doubletree by Hilton Monrovia-Pasadena
924 West Huntington Drive
Monrovia, CA 91016
Admission: Free, RSVP to Elvia Patterson at epatterson@doubletreemonrovia.com or call 626-873-2247.
Monday, March 10
4pm - 8pm
The Wedding Salon
SLS Beverly Hills
8555 Beverly Blvd
Beverly Hills, CA 90048
Pretty much THE high-end wedding show of the year. Don't bother getting dinner before, and you won't need to afterward, you will be well-taken care of. It's a gorgeous show, and I find a way to finagle my way in there every year.
Speaking of which: Tickets are normally $75, but use the code MLBCC for complimentary admission for you and a guest. You're welcome!
The Deals:
This is from Wedding Chicks, but go to The Knot For the rest
of the downloads.
The Knot - 10 Free Wedding DIY Project Downloads. Mr. and Mrs. chair signs, save the dates, escort cards, dessert bags, a pie favor box, okay, soooo much PRETTY. Enjoy.
See you at the end of the aisle,
Liz Coopersmith
Silver Charm Events
www.silvercharmevents.com
Call or email today to schedule a complimentary wedding consultation:
323-592-9318
liz@silvercharmevents.com