Every Wednesday, I give you the best wedding stories, events and deals in Los Angeles and around the web. And we call it Wedding Wise Wednesday. Welcome!
Cool Wedding Thing of the Week
: CJ and Jessica's Iowa Elopement, on
Offbeat Bride
. My favorite quote from one of the brides:"[We]searched the internet for places where you could legally be married as a gay couple. They were all cold." Hah!
The Events
Of which there is like, one. I'm surprised that someone hasn't thought of doing a Mother of the Bride event for Mother's Day. Huh, maybe I will, next year. Stay tuned!
Saturday, May 7, 2011 7:00 PM - 7:30 PM
Aris and Linets Wedding Reception
Hosted by
Modern Event
Hilton Universal Hotel
555 Universal Terrace Prkway
Universal City, CA 91608
The Universal Hilton is showing off it mad skillz - come by and see what a wedding and reception in their main ballroom looks like. Free, the only thing you have to pay for is parking.
The Deals: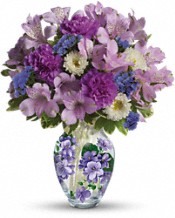 First of all, let me help you out if you haven't gotten anything for your Mom, yet - You Get 25% off everything on
Teleflora
when you use prome code "MDAY310" at checkout. Thanks to
Marriage.com
for the head's up.
You're a fan of Martha Stewart Weddings, right? Of course you are! So,enjoy their discount with
CanvasPop
- 15% when you use the code "Martha15".
See you at the end of the aisle,
Liz Coopersmith
Silver Charm Events
323-592-9318
liz@silvercharmevents.com