Every Wednesday I bring you the best wedding stories, deals and events in Los Angeles and around the web. And we call it Wedding Wise Wednesday. Welcome!

Wedding Thing of the Week:
What's all the rage in Hong Kong these days?
Getting married at McDonalds
. You heard me. According to L.A. Weekly, for less than $1700 you get a slew of their menu classics, decorations featuring the iconic arches in pink , a "balloon" wedding dress (I'm gonna need to see that at some point) and wedding cake. I'm assuming the menu would include all the fries you can eat, right? And this hasn't hit the States yet because why?

The Events
Saturday, February 19
Open Hotel at Hotel Maya
10:00 AM - 2:00 PM
700 Queensway Drive
Long Beach, CA 90802
Watch a Mock Wedding Ceremony and see what their reception room looks like when it's all set-up. The catering staff and other wedding professionals will be on hand to answer all your questions, and drinks and hors d'ourves will be served. Admission is free, but To RSVP, please call 562-481-3897 or email Nicole at Nicole.Dalesandro@Hilton.com
Sunday, February 20
POP, the Bridal Event
11:00 am – 4:00 pm
The Americana at Brand
889 Americana Way
Glendale, CA 91210
Did you guys see the Groupon for this last week? I'm going to be there, and so is David Tutera! Even though it's in Glendale, this is one of those "Beverly Hills" shows I talk about - couture gowns, couture vendors, and lots of yummy cake. These shows are a lot of fun, and
they can be educational
, too.
BrideWorld Expo
10:00 AM - 4:00 PM
Crowne Plaza Hotel
300 N Harbor
Redondo Beach, CA 90277
$10 at the door, $8 online
Wednesday, February 23
Put it on your calendar:
Wedding and Wine Wednesday at the Portofino Hotel and Yacht Club
6:00 - 9pm
260 Portofino Way|Redondo Beach, CA 90277
Hors d'ouerves and desserts, wine and live music. And a chance to try out that photo booth you've heard so much about! RSVP to sblovetour@gmail.com
The Deals:
Vera Freaking Wang at David's Bridal! - White, the new collection,
just launched last Friday
, offering Wang's timeless style to the masses at last. Prices range from $600-1400, and some are available up to size 16. Yeah, I definitely need to have a vow renewal now. Thanks to
Wedzilla
for the heads up and the pic.
DIY'ing the bar at your wedding reception? Well, then you'll be happy to know that
BevMo's
5 cent sale is ON. Buy one bottle of wine, get the second one for 5 cents. And since you're going to need one bottle of wine for every four people, it's time to stock up.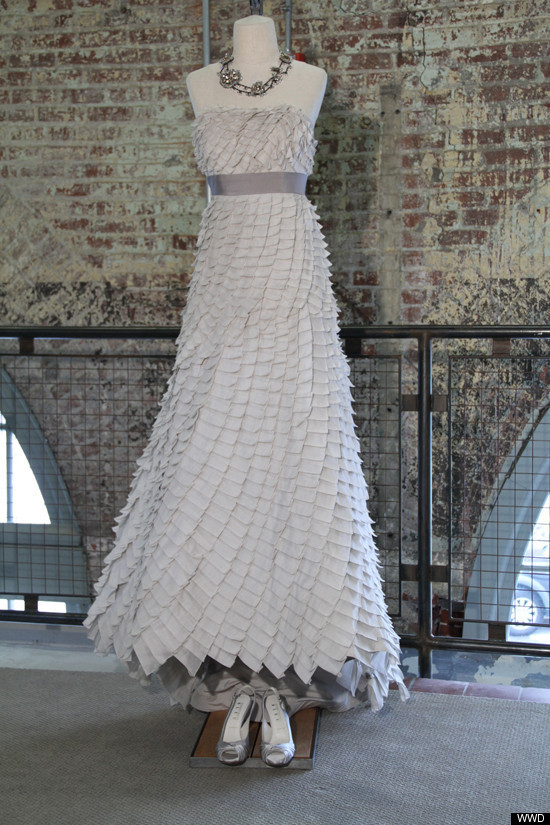 Urban Outfitter has also launched its bridal collection,
BHLDN
, this week - wedding gowns ranging from $1,000 - $4,000, bridesmaid dresse, veils, shoes and even cake pedestals and invites.
Enjoy, and I'll see you at the end of the aisle,
Liz Coopersmith
Silver Charm Events
www.silvercharmevents.com