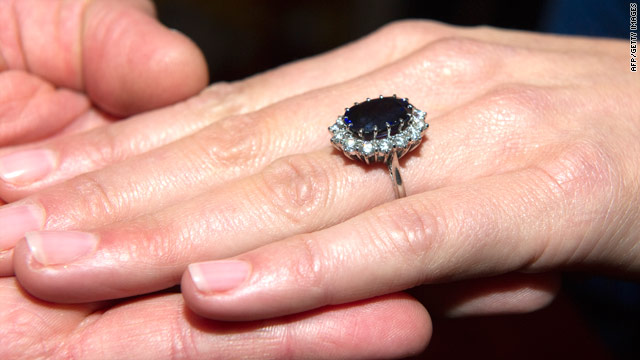 Kate Middleton's engagement ring (
courtesy of CNN.com
). It's the ring that Charles gave to Diana, and I'm assuming it reflects William's love for his mom more then his Dad's love for his mom? Is that an "ouch" comment? I mean, we all know how that went down, so I found the choice, as the English would say, rather odd. But then again, who doesn't want Princess Diana's engagement ring? Damn thing's gorgeous enough to make any "curse" worthwhile, you know? I like him and I like her, and, of course, I wish them all the best. And if they need any extra hands, I'd be
more
than happy to help out.
As an addendum to my post on The Broke Ass Bride today, here's another cocktail for you called The Wedding Cake Martini:
Booze
1 part Vanilla vodka
1 part Amaretto
1 part Coconut rum
A splash of White chocolate liqueur
Mixers
1 part Pineapple juice
A splash of Cranberry juice
Garnishes
Powdered sugar
Strawberries
Directions
Using either water or sweetened condensed milk coat the rim of a martini glass then coat the rim again with powdered sugar.
Shake the rum, vodka, amaretto, white chocolate liqueur, pineapple, and cranberry juice and strain into glass. Slice a strawberry and place on glass.
Mmmm. Thanks to
@nataliebradley
for the find.

Events to Remember:
Harsanik's Premier Bridal Event is Sunday from 12 - 5pm, at the Langham Hotel in Pasadena. Now this is a "Beverly Hills" Bridal show, so don't bother eating before you go. Use the code MARRIAGE to get
$3.00 off admission onlin
e. I'll be checking in on Foursquare, so if you're there, find me!
Have a great weekend, and I'll see you at the end of the aisle (and at the show on Sunday)
Liz Coopersmith
Silver Charm Events -
www.silvercharmevents.com
Follow me
@lizcoopersmith